Announcement:
Winners:

-------------------------------------
This time, we are gearing up to "Blaze the Path to New Realities……" 
Innovation is the only way to win!
It's time to think out-of-the box, push your creative boundaries and innovate now. We truly believe that your innovation can redefine paths, re-shift paradigms and make change happen for a better tomorrow. This monumental moment of innovation can impact businesses and lives forever and unleash limitless possibilities for everyone. 
The 2021 Accenture Innovation Challenge springboards from the theme "Combining Technology with Human Ingenuity for a better world". It aims at bringing together the essence of human ingenuity and the power of technology, both of which culminate into that one moment and its unlimited outcomes. 
As an offshoot of this theme, we are encouraging participants to submit their ideas for the following two Innovation categories:
Innovate for business
Develop innovative business solutions, offering or a business model that disrupts the market.
Innovate for society
Develop innovative solutions by applying technology to help improve the way we work and live and create value for our society.
----------

The competition is open to all college students who are passionate about technology. 
----------
Attractive prizes and irresistible incentives.
A unique national platform to showcase your innovative spirit and present out-of-the box solutions to our acclaimed Jury in the finals.
An opportunity for students to have a Fast Track Interview with Accenture. 
----------
Phase 1 – Registrations and Idea submissions: Form a team of up to four members and submit your innovative ideas and solutions as per the submission template. Also, share with us your innovative ideas through an interesting elevator pitch video (1-2 mins).
Phase 2 - Online Simulation: Only shortlisted teams will advance to this stage and participate in the online simulation round.
Phase 3 - Prototyping: Top 20 teams will receive a funding of INR 25,000 to build their prototypes and compete in the semi-final round. If you are selected, you will get a chance to be mentored by our innovation coaches and present the final solution to the grand jury in the next round.
Final Phase - Grand Finale: Compete in the grand finale and present your innovative ideas to win big.
So, make sure you form a competent and diverse team to put your best foot forward, as we believe diversity drives innovation.
----------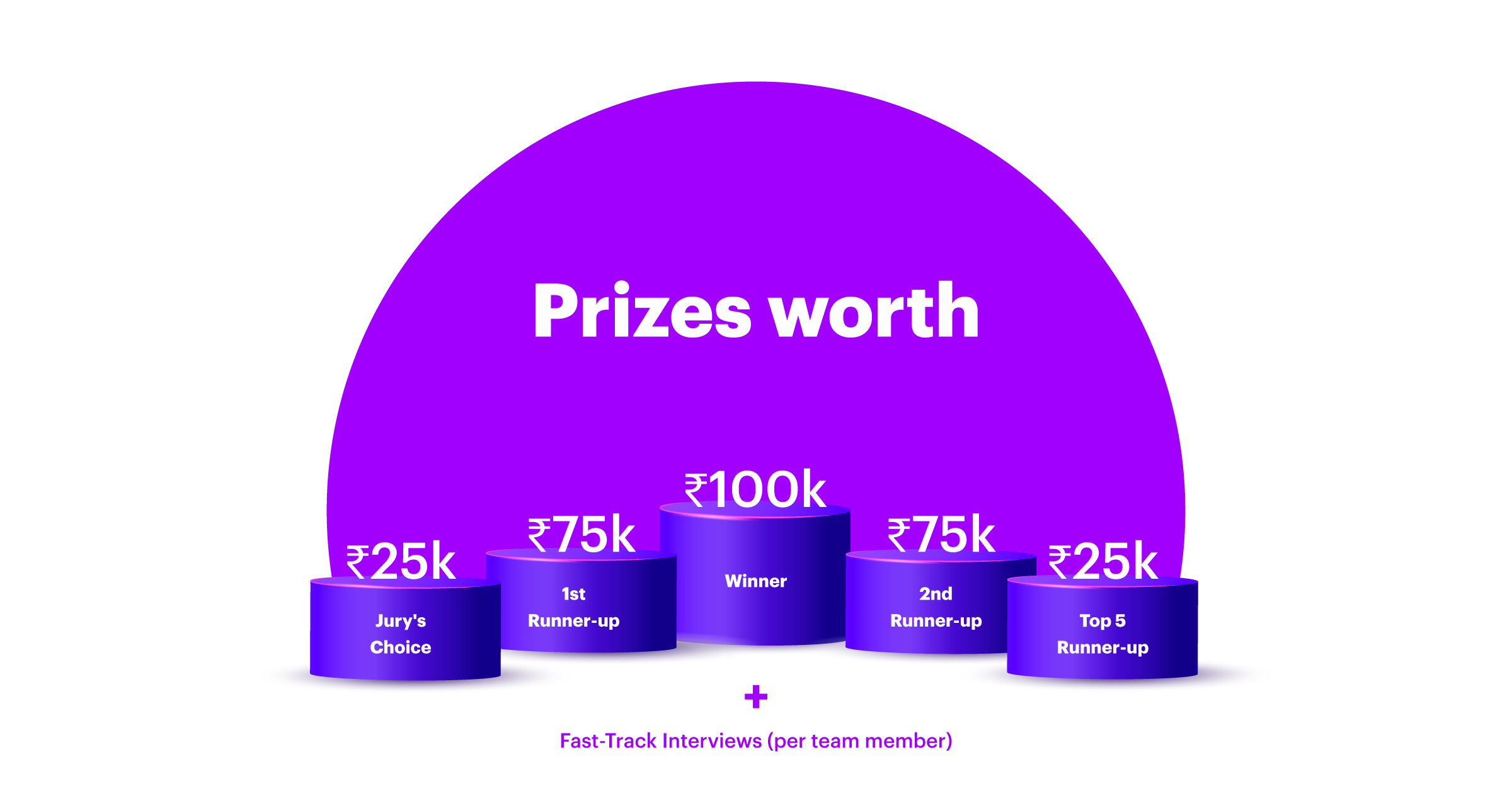 The team which presents the most creative elevator pitch video will win a mega cash prize of INR 10,000 (per team member).
By participating in this contest, you agree to applicable Terms and Conditions.